NYCOMCO is your source for
Two-Way Radios for Education in the Hudson Valley
MOTOROLA QUARTERLY PROMOTIONS & OFFERS
CHECK OUT OUR CURRENT PROMOS
New and evolving threats are leading to a greater focus on school safety. We provide K-12 schools, universities, and educational institutions in with reliable communication systems to improve day-to-day operations and protect students and faculty in the moments that matter most. Request a quote
to see how our wireless solutions for education can enhance communications at your school. Parents and faculty will have peace of mind knowing that your school is connected and well-equipped for emergencies.
Critical Incident Radio Communications
In an emergency, everyone on the school staff becomes an immediate responder. Some schools can only contact emergency services using a landline or cellular phone. MOTOTRBO™ radio systems are paramount to positive outcomes during critical situations.
The Motorola SchoolSAFE™ network is a system that allows public safety agencies to instantly communicate with the schools in . Instead of information passing through multiple parties or being incomplete, SchoolSAFE lets emergency services personnel talk directly to school officials in real time during a critical incident.
We can answer any questions you have about how your school can integrate the SchoolSAFE network into its existing Motorola radio system in the Hudson Valley.
Motorola MOTOTRBO Radio Systems
MOTOTRBO's school two-way radios in unite your staff with reliable communications anywhere they go. Solutions are built to fit the user, matching Bluetooth® technologies with school bus drivers who need to remain hands-free, or an ultra-thin model that can fit easily in the pocket of a teacher. 
Motorola MOTOTRBO radio systems are the solution that seamlessly integrates voice and data capabilities, allowing you to combine your Motorola two-way radios, GPS tracking, text messaging, and even your video monitoring all on one system. With crystal-clear audio that automatically adjusts for background noise, you will never miss a message even in noisy environments. 
Explore how Motorola MOTOTRBO radios and Motorola MOTOTRBO systems can improve the safety of your school.
From teachers on the playground to the classroom, your school's communications system in is the first line of defense when a critical situation occurs. Equipping all team members with instant communication on any network or device from any location is a key element in keeping schools safe.
Find out how Motorola Team Communications from NYCOMCO will help your school navigate emergencies by quickly and efficiently conveying critical information to those who need it when every second counts. As school safety becomes a national priority, boards are benefiting from additional funding for enhanced communications system. We offer solutions that work within the budget you have.
Discover how all of these features make the Motorola MOTOTRBO Systems the leading choice for communications solutions in the the Hudson Valley Oil and Gas industry. Request a Quote or Contact Us for a free communications assessment to find out more.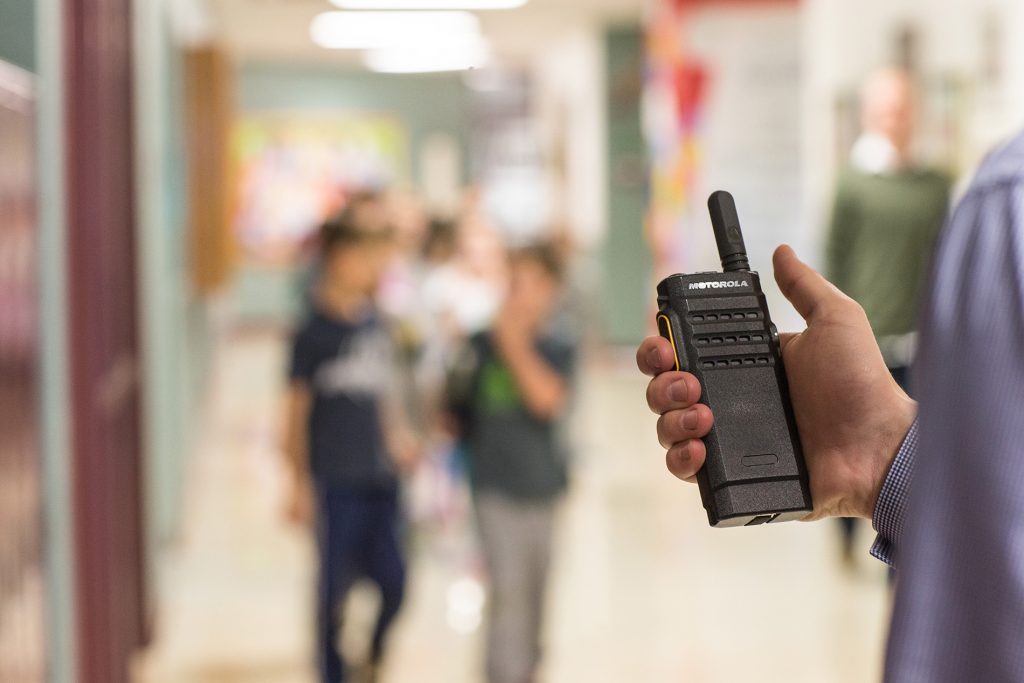 Communications Built For Education
We can build you a solid communications solution that will stand up to even the most demanding situations.