NYCOMCO is your source for
Two-Way Radios for Retail in the Hudson Valley
MOTOROLA QUARTERLY PROMOTIONS & OFFERS
CHECK OUT OUR CURRENT PROMOS
The way your employees communicate with each other plays a significant role in how customers are served at your the Hudson Valley retail business. From knowing key pieces of information about the store and products or being able to communicate customer needs, seamless communication through retail two-way radios can make a difference. Level up your the Hudson Valley business with two-way radios specifically designed for your industry.
Motorola MOTOTRBO™ Radios
In a case study where the Mall of America® examined communications needs within the large space, the shopping center chose to elevate the customer experience through two-way radios. Motorola MOTOTRBO radios found at the Hudson Valley were able to overcome the following challenges:
Frequency Interference
Static and Dead Zones
Motorola MOTOTRBO two-way radios are a form of digital communication that accommodates the many challenges of retail spaces. Features of Motorola MOTOTRBO two-way radios include:
Clear, continuous communications
Durability
Caller ID
Transmission priorities
Multiple channels for specific groups or general broadcasts
Seamless scalability
Connect your team with the cutting-edge technology of Motorola WAVE OnCloud at the Hudson Valley. Open group communication in your retail space can now be available through a subscription-based software that can be adapted to smartphones, tablets, two-way radios, and more. Motorola WAVE OnCloud from NYCOMCO in the Hudson Valley offers a wide range of benefits that can enhance the communication and efficiency of your team, such as:
Multimedia capabilities
Use of already existing devices
Instant communication
Pay-per-user monthly subscription
Broad, nationwide coverage
Easy to use and manage
Centralized communication with dispatch software
Intuitive to use and durable, the Motorola Two-Way Radio Service available at NYCOMCO in the Hudson Valley provides dependable communication for your team. Retail two-way radios are designed specifically for the unique demands of the work environment, leading to exceptional customer experience. Two-way radios can be a simple solution for indoor environments and offer many benefits, including:
Rechargeable and long-lasting battery power
Discreet and professional
Dependable and clear audio
Lightweight and durable
Canadian Tire began using Motorola digital two-way radios for better communication among the team and instantly experienced an improvement in customer service after making the switch. Motorola radio options for retailers in the Hudson Valley allow you to select digital communication methods that suit the team, retail work environment, and customer. Retail two-way radios provide reliable communication, allowing your team to reach high efficiency, performance, and operational standards.
A customer's experience within your retail store largely impacts purchasing decisions and brand loyalty. Discover industry-leading communication technology with Motorola MOTOTRBO Radios, Motorola WAVE OnCloud, and Two-Way Radio Service at NYCOMCO.
Our dedicated team at NYCOMCO the Hudson Valley is here to discuss options for retail two-way radio communication. Contact us today to request a quote for Motorola radio retail options that are best suited for your needs.
Discover how all of these features make the Motorola MOTOTRBO Systems the leading choice for communications solutions in the the Hudson Valley Retail industry. Request a Quote or Contact Us for a free communications assessment to find out more.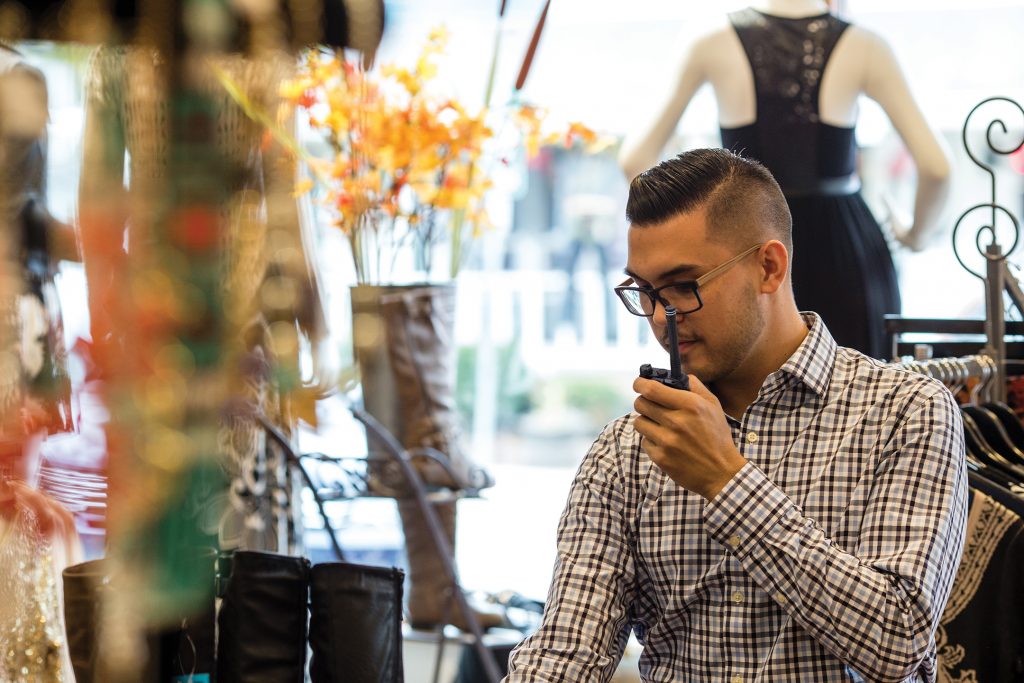 Communications Built For Retail
We can build you a solid communications solution that will stand up to even the most demanding situations.